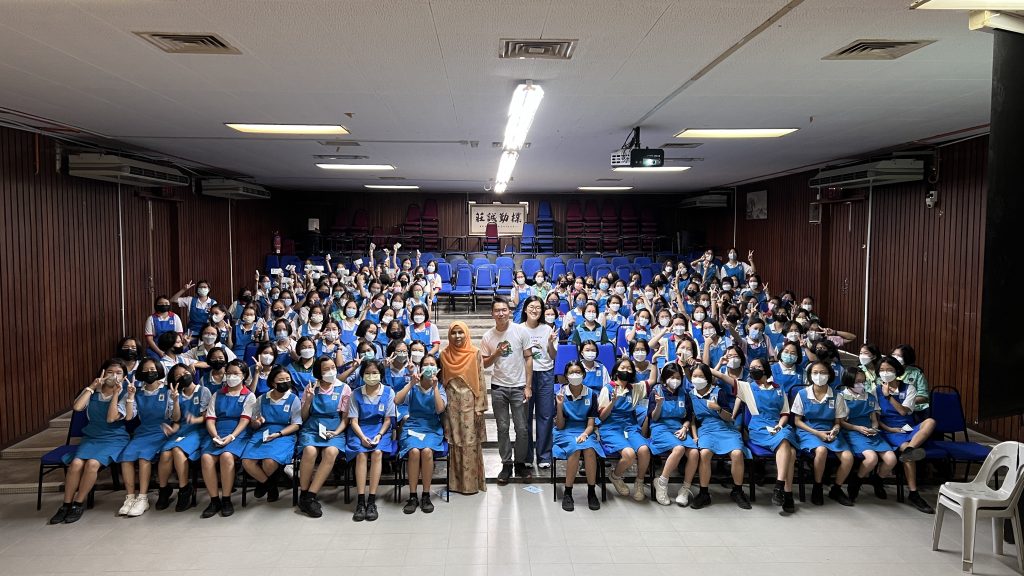 Water Watch Penang (WWP) has organized the 'Negalitres for Schools' River and Water Education Programme for students of SMJK Perempuan China Pulau Pinang on 20th September 2023. A total of 150 students, ranging from Form 1 to 3, along with the participation of one teacher, engaged in the programme from 2.00 p.m. to 3.30 p.m.
Mr. Hanson, WWP's Programme Officer, opened the programme by outlining WWP's goals and water-related activities. He emphasized the global water crisis and its impact on Malaysia, explaining the causes with compelling visuals to evoke empathy. Moreover, Mr. Hanson also addressed a local concern—the low water tariff in Penang and its potential for promoting wasteful water use.
In addition, the students learned about river water quality assessment, covering physical, chemical, and biological aspects, which was explained by Mr Hanson. During the session, they understood the harm of chemical pollution in rivers and the role of macroinvertebrates in indicating ecosystem health through engaging videos and images.
Additionally, the students were introduced to various water-saving technologies, rainwater harvesting systems, and PBAPP's water-saving kit. Mr. Hanson demonstrated the proper way of using automatic push taps via the playing of video, highlighting the presence of 30 automatic taps in their schools.
Quiz sessions were held in between the session with water tumblers and mugs as prizes. Water Watch Penang appreciates SMJK Perempuan China Pulau Pinang for their collaboration in organizing the 'Negalitres for Schools' Programme with WWP.
'Negalitres for Schools,' launched on 22 March 2022, was coordinated by WWP in partnership with Intel Corporation, CLEAN International, and in collaboration with Seberang Perai City Council (MBSP) and PBAPP. This project is fully funded by CLEAN International Inc. and Intel Corporation and is also supported by the Ministry of Environment and Water and the Penang State Education Department. The local partners involved are the Penang State Government through the Penang Green Council, PBAPP, and the Green Educators Workgroup (GREW).
For more information, please contact WWP Executive Manager, Dr. Hong Chern Wern, at hong.wwp@gmail.com or contact WWP at +6019-5751253.