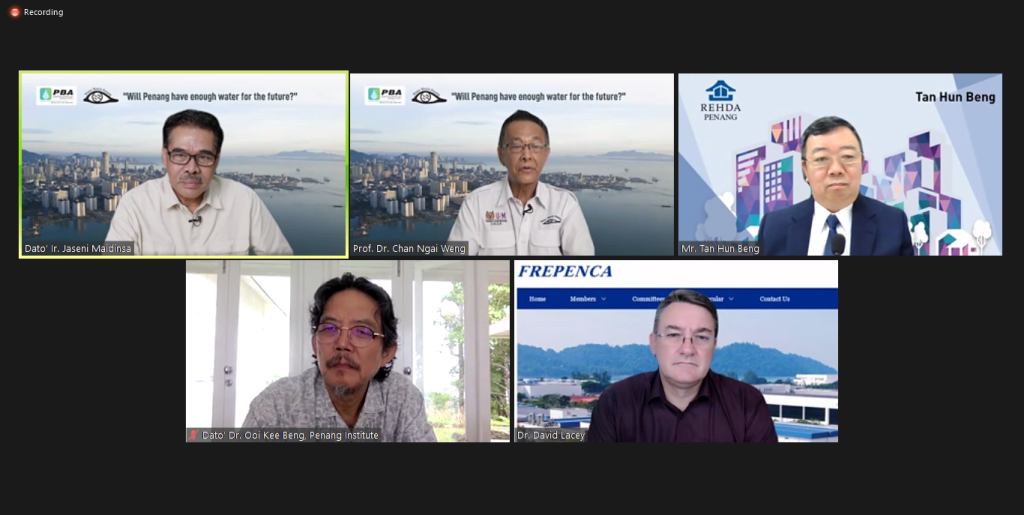 20 April 2022: World Water Day 2022 Webinar has been conducted with the theme "Will Penang Have Enough Water for the Future" via Zoom.
The main objective of this event was to discuss and provide insights from panellists of various expertise and backgrounds on the current water situation in Penang. The strategies given by all the panelists in this program is very important to ensure that the water supply is always sufficient for Penang's sustainable development initiatives.
The programme revealed Penang water supply risk factors in 2022, which lead to higher consumption, future demands, climate change, and many more. Moreover, this webinar also shared the initiative 2050 that Penang can do to manage Penang's water supply and demand.
This event consists of a presentation session by Dato' Ir. Jaseni Maidinsa, the CEO of PBAPP & PBAHB, followed by six panelists: Dr. David Lacey, President, FREPENCA; Dato' Dr. Ooi Eng Hock, President, 88 Captains of Pulau Pinang; Mr. Tab Hun Beng, Chairman, REHDA; Mr. Mohideen Abdul Kader, President, CAP; and Dato' Dr. Ooi Kee Beng, Exec. Director, Penang Institue and this session is moderated by Prof. Dr. Chan Ngai Weng, the President of Water Watch Penang.
Visit our Facebook page for more photos and find the below link of the recording for your viewing. Part 1 and Part 2
For more information, please contact Executive Manager, Dr. Hong Chern Wern at hong.wwp[at]gmail[dot]com