TENTATIVE DURATION: MAY 2023 TO DECEMBER 2023
INTRODUCTION
Water is regarded as an essential substance for every life on earth. The main source of water supply in Penang is river water (such as from Sungai Muda). However, the river water must be at an acceptable quality before it can be delivered to the water treatment plant prior to human consumption. To determine whether the river water is of considerable quality, several water quality parameters must be monitored. For instance, the nitrogen content, pH, and turbidity must be below a certain limit before the river water can be sent for treatment. If the condition is not met, the consequences include poorly treated water quality and damage to the equipment in the water treatment plant. This proposal attempts to develop a water analysis kit with a systematic guide to provide an experiential learning experience for young Penangites. This proposal will also allow Penangites to conduct hands-on experiments, improving their understanding of the importance of monitoring water parameters in water.
OBJECTIVE/AIMS:
The objective of this proposal is to develop a practical water analysis kit for experiential learning purposes with the aim to improve (i) public knowledge and understanding on the important water parameters, and (ii) the awareness of participants on the importance of continuous water quality monitoring. This project is in line with SDGs 4 and 6.
EXPECTED OUTPUT/OUTCOMES
The participant will gain practical experience in the analysis of common water parameters. The immediate output of this proposal is the improved understanding and knowledge of participants on common water quality parameters through experiential learning. This will allow them to appreciate the water quality parameters and understand the need to conserve water for a sustainable future and achieve a circular economy.
After the development of the modules, at least 10 sets of each module will be prepared. These modules can be used to educate a total of 20 students.
In the long run, participants are expected to serve as leaders and share their knowledge with their families, colleagues, and friends. This sharing will have a positive impact on the perception and knowledge of water quality parameters, improving public awareness of the need to monitor water quality and decrease irresponsible pollution (such as discarding oil and grease into the sink).
The developed modules can also be used for various education programs. They will serve as a guide for future training programs. The developed modules can also be showcased as part of scientific innovation for water education.
RELATED SDG AND PENANG 2030 VISION: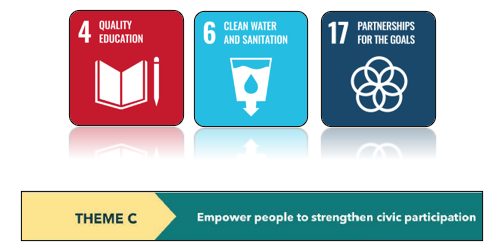 PARTNERS
PBAPP
Jabatan Pendidikan Negeri Pulau Pinang
Universiti Sains Malaysia