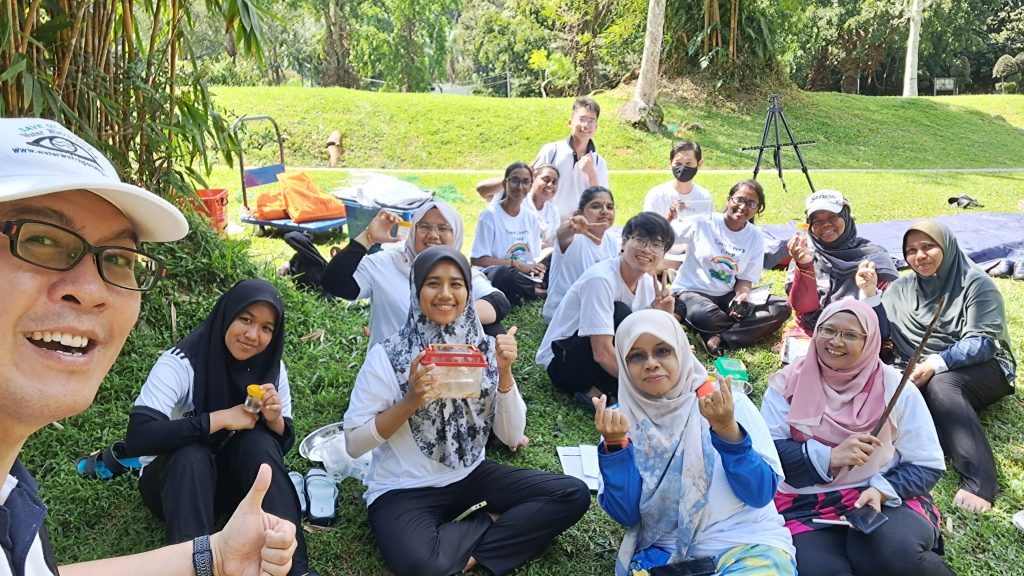 On November 4, 2023, a Training of Trainers (TOT) Programme on River and Water Education for teachers from the Green Educator's Workgroup (GREW) was conducted at Penang Botanical Garden. A total of 9 teachers from various schools in Penang participated in this programme, which ran from 8:45 am to 12:45 pm.
GREW is one of the main partners and supporters of WWP in the 'Negalitres for Schools Programme.' The primary objective of this ToT programme was to train GREW teachers to become facilitators in their respective schools, creating a multiplying effect of educators who are trained and passionate about river and water education, ultimately benefiting the students in their respective schools.
The teachers who participated in this programme were:
PUAN SARADADEVY MURUGIAH (SJKT SUBRAMANIYA BARATHEE)
PUAN ROZANA BINTI MOHAMED NOORDIN @ AHMAD (SK TITI TERAS)
PUAN AZIAN BINTI SABLI (SK TITI TERAS)
PUAN SITI NURMUNIRAH BINTI ZAINAL ABIDIN (KOLEJ VOKASIONAL SEBERANG PERAI)
EN. CHUNG BOON JIN (SJKC KWANG HWA SG. NIBONG)
PUAN ROSMIZA BINTI AHMAD (MAKTAB MAHMUD KUALA MUDA)
PUAN ILHIANA BINTI ISMAIL (SMK ABDULLAH MUNSHI)
CIK HAZIEL ANN A/P SIMON PAUL (SK CONVENT GREEN LANE)
CIK SOOGHANESSHWARY A/P JAYAMOORTHY (SK CONVENT GREEN LANE)
Dr. Hong Chern Wern, the Executive Manager of Water Watch Penang (WWP), initiated the session by outlining the organization's goals and the programme's objectives. Subsequently, he provided an introduction to Penang's water supply status and rivers, with particular emphasis on the fact that a majority of Penang's water originates from the Muda River in Kedah.
Next, trained facilitators, Mr. Yee Jean Chai and Ms. Puteri Atiqah Bandira, along with WWP's Programme Officer, Mr. Hanson Yeoh, and with the assistance of CGSS intern, Ms. Durgadewi Thurairaj, guided the teachers in conducting river water quality assessments. The session began with a physical assessment, during which the teachers utilized tools to evaluate the physical factors of river water, such as temperature, turbidity, and river velocity. Following that, the teachers used water quality testing kits for a chemical assessment to measure parameters like pH, ammonia, nitrate, nitrite, phosphate, and dissolved oxygen (DO) of the river water.
During the biological assessment session, Dr. Hong explained the method of capturing macroinvertebrates in the river, which act as key indicators for assessing water quality. Subsequently, the teachers engaged in hands-on practice, capturing macroinvertebrates such as stonefly nymphs, caddisfly larvae, flattened mayfly nymphs, and dragonfly nymphs, which are typically found in cleaner river water.
Upon completion of this programme, teachers have the option to organize a river education activity involving students from their respective schools, following the guidance provided in the WWP river education guidebook.
For additional information on organizing ToT-related programmes, please reach out to Dr. Hong Chern Wern, the Executive Manager, at hong.wwp@gmail.com.