Under the Negalitres for Schools Programme, Water Watch Penang (WWP) again has successfully conducted a double-education programme in SJKC Union from 8.00am to 10.15am on the 19th of October 2023. SJKC Union is one of the on-going participants of the Negalitres for Schools Programme, and is also one of the Green School recipients for FEE Eco-Schools Programme.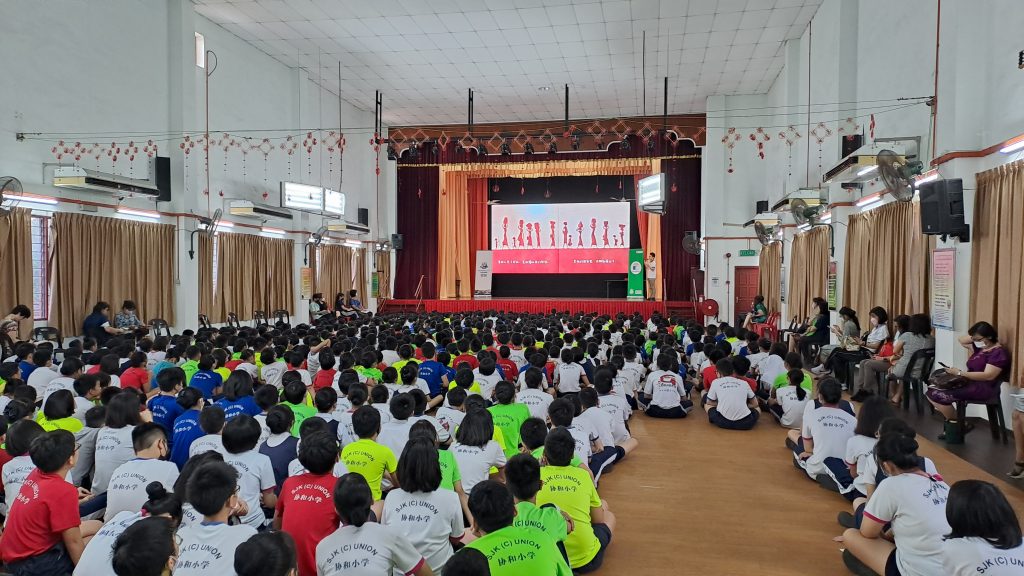 The educational session was segmented into two parts: an education and awareness session that involved the participation of over 800 students and 15 teachers, and a water quality assessment activity involving 30 students and 2 teachers from the Environmental Club.
The programme commenced with a welcoming address from Mr. Jerome Khou and the School Principal, Mr. Loh. Subsequently, the Executive Manager of WWP, Dr. Hong Chern Wern, delivered a brief opening speech, followed by Mr. Hanson Yeoh, the Programme Officer of WWP, who formally commenced the educational talk.
Mr. Hanson initiated the talk with an introduction to Water Watch Penang's objectives, progressing to a discussion on the global, national, and local water crises. Students were notably surprised when Mr. Hanson emphasized that Penang is categorized as a water-poor state, despite having the lowest water tariff and the highest water consumption among other states in Malaysia. Under the Negalitres for Schools Programme, Mr. Hanson also highlighted the role of the installed automatic push taps in the school in conserving water by limiting usage and flow. Additionally, he imparted strategies and methods to students on how individuals can effectively save and conserve water.
Following that, the programme proceeded with a 1-hour water quality assessment activity engaging students from the Environmental Club. They were divided into two groups, each led by Dr. Hong and Mr. Hanson, respectively. The students had the opportunity to use water quality testing kits to analyze various chemical parameters in the water such as 'dissolved oxygen', 'pH' and presence of 'ammoniacal nitrogen', 'nitrite', 'nitrate' and 'phosphate'.
For additional information, please reach out to WWP's Executive Manager, Dr. Hong Chern Wern, at hong.wwp@gmail.com, or contact WWP directly at +6019-5751253.