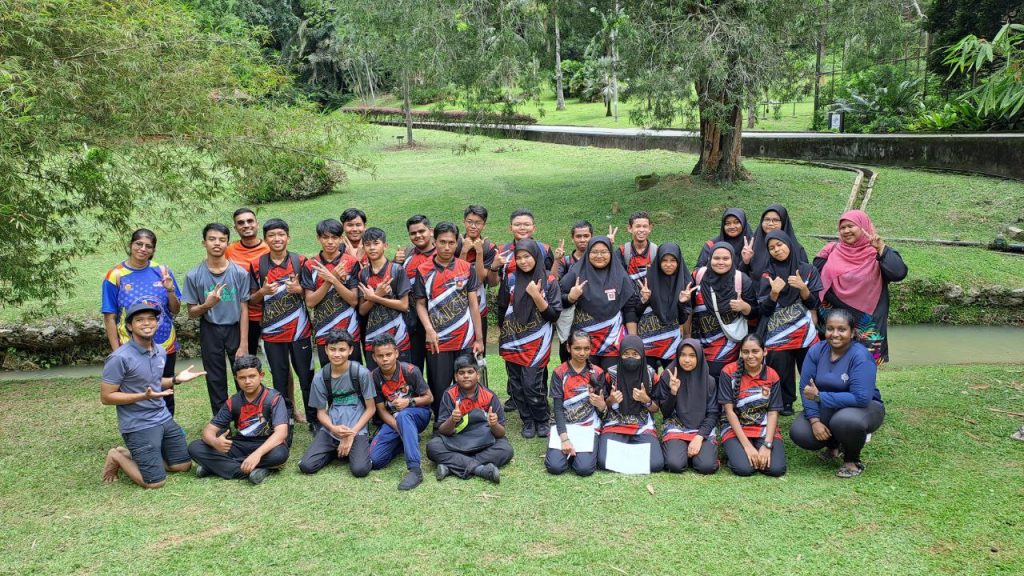 5th SEPTEMBER 2023 – Water Watch Penang (WWP) and The Habitat Foundation successfully held a river and water education programme for SMK Tanjong Bunga, Penang, in the Penang Botanical Gardens.
The Habitat Foundation arranged the educational activity as part of its Field Excursion for Penang Hill Biosphere Reserve (PHBR) Gateways, with support from CIMB Islamic. WWP was invited to lead an engaging and hands-on practical river activity to educate attendees on the global, regional, and local water crises, as well as the critical significance of rivers as a water resource.
A total of 26 students from Kelab Alam Sekitar of SMK Tanjong Bunga, as well as two teachers, took part in the program from 9:00 a.m. to 12:00 p.m. The program's lead facilitator was WWP Executive Manager Dr. Hong Chern Wern, who was assisted by Mr. Hanson Yeoh, WWP's Programme Officer, two interns, Ms. Khairul Barieyah and Ms. Tan Ying Sing, and trained facilitator, Mr. Sharvind, as well as The Habitat Foundation team members, Ms. Lingesh and Mr. Uzeir.
Ms. Lingesh, the Habitat Foundation Education Team Leader, began the session by welcoming the attendees, which was followed by a talk from Dr. Hong, who introduced WWP and addressed Penang's water situation, as well as the necessity of water conservation to the participants.
The river activity was divided into two parts. The first session was the biological evaluation to calculate the Biological Water Quality Index by employing the catch-and-release method to count the number of macroinvertebrate species discovered, followed by a physical assessment in which river velocity, temperature, and other physical factors were used to determine the water quality. The second session was a chemical assessment, which included testing pH, dissolved oxygen, ammonia, phosphate, nitrate, and nitrite levels in the river water. The participants were separated into three groups, each with its own facilitator to help them through their assessments.
WWP wishes to express its appreciation for the opportunity provided by this partnership.
For more information, please get in touch with WWP Executive Manager, Dr Hong Chern Wern, at hong.wwp@gmail.com or contact WWP at +6019-5751253.