9th AUGUST 2023 – This day signifies the occurrence of an educational session on rivers and water as part of the Negalitres for Schools Programme, organized by Water Watch Penang. The session took place at SK CONVENT BUKIT MERTAJAM, with the participation of 39 students from Standard 4, accompanied by 5 teachers, from 12.00 pm-1.30 pm.
Dr. Hong Chern Wern, the Executive Manager of WWP, commenced the session by providing insights into WWP's background, objectives, and previous endeavors. He also shared valuable perspectives on worldwide, national, and community-specific water concerns, in addition to showcasing diverse water-conservation technologies. Next, he underscored the primary water-intensive activities within households and workplaces, while offering recommendations to diminish water usage. By shedding light on these insights, he aimed to foster a greater awareness of responsible water usage among students and teachers, ultimately contributing to more sustainable water practices for the future.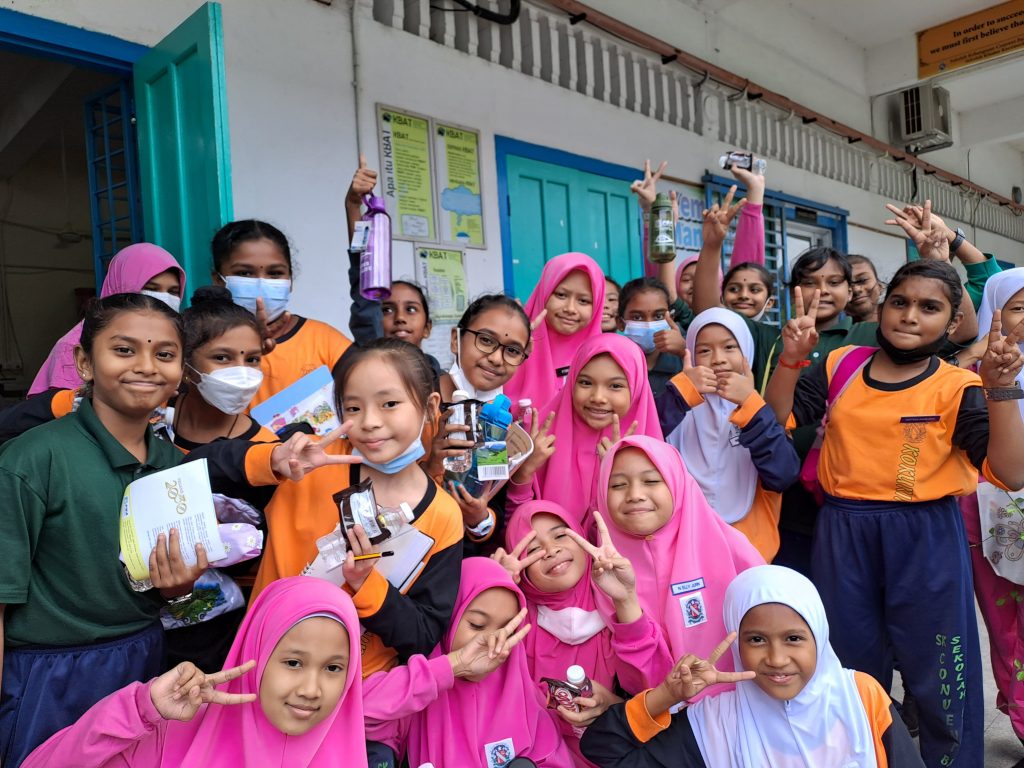 The students were engaged in an interactive session where they learned about water quality monitoring by comparing tap water and the polluted river water beside their school. A significant aspect of the activity involved instructing the students on conducting chemical tests using testing strips. This activity was assisted by four dedicated interns, Ms. Khairul Barieyah, Ms. Naaga Lechume, Ms. Divya Sree, and Ms. Tan Ying Sing. The students were divided into four groups and the interns facilitated the session by providing explanations to the students, aiding their comprehension and enabling them to distinguish between polluted river water and tap water more effectively.
As the session drew to a close, an engaging and brief quiz was conducted for the students, led by Hanson, WWP's Programme Officer. This interactive quiz session added an element of excitement and knowledge reinforcement. The fortunate victors of the quiz were rewarded with water bottles and t-shirts, serving as tokens of their participation.
For more information, please get in touch with WWP Executive Manager, Dr Hong Chern Wern, at hong.wwp@gmail.com or contact WWP at +60 19-575 1253.
'Negalitres for Schools', launched on 22 March 2022, was coordinated by WWP, in partnership with Intel Corporation, CLEAN International and in collaboration with Seberang Perai City Council (MBSP) and PBAPP. This project is fully funded by CLEAN International Inc. and Intel Corporation as well as supported by the Ministry of Environment and Water and Penang State Education Department. The local partners involved are Penang State Government via Penang Green Council, PBAPP and Green Educators Workgroup (GREW).