3 MAY 2023 – Water Watch Penang (WWP) successfully conducted the 'Negalitres for Schools' River and Water Education Programme for students from SJKC Moh Ghee Cawangan, Penang on 3rd May 2023.
A total of 90 students ranging from standard one to standard six participated in the programme from 10 am to 12 pm.
WWP Executive Manager Dr Hong Chern Wern commenced the talk by introducing WWP's history, goals, and past activities. The talk is followed by WWP senior facilitator Ms Ong Ke Shin who presented on the global, national and local water crisis, water conservation strategies, water-saving technologies and other water-related issues.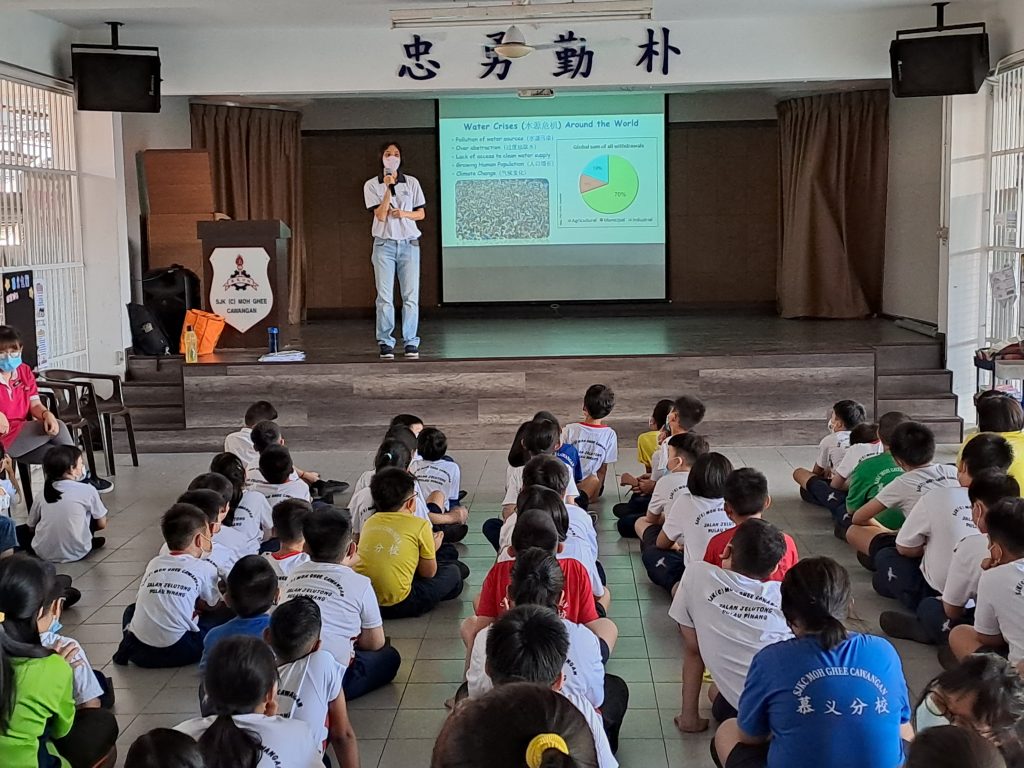 Furthermore, Ms Ong explained the proper way to use an automatic push tap and its purpose in reducing water wastage. The students were also introduced to the slow-flow inserts for taps, 'Washers' by Penang Water Supply Corporation (PBAPP) and other water-saving technologies such as rainwater harvesting systems and dual flush toilets.
Moreover, the students also learned about river water quality monitoring using physical, chemical, and biological assessments. The students were excited when watching video clips of macroinvertebrates that were captured to calculate the biological water quality index.
The programme ended with a quiz where the lucky winners received three T-shirts and five colouring books. In addition, the headmistress Puan Tan Yoom Moi presented Dr Hong with a certificate to WWP as a token of appreciation at the end of the programme.
'Negalitres for Schools', launched on 22 March 2022, was coordinated by WWP, in partnership with Intel Corporation, CLEAN International and collaboration with Seberang Perai City Council (MBSP) and PBAPP. This project is fully funded by CLEAN International Inc. and Intel Corporation as well as supported by the Ministry of Environment and Water, and Penang State Education Department. The local partners involved are Penang State Government via Penang Green Council, PBAPP and Green Educators Workgroup (GREW).
For more information, please get in touch with WWP Executive Manager, Dr Hong Chern Wern, at hong.wwp@gmail.com or contact WWP at +60 19-575 1253.