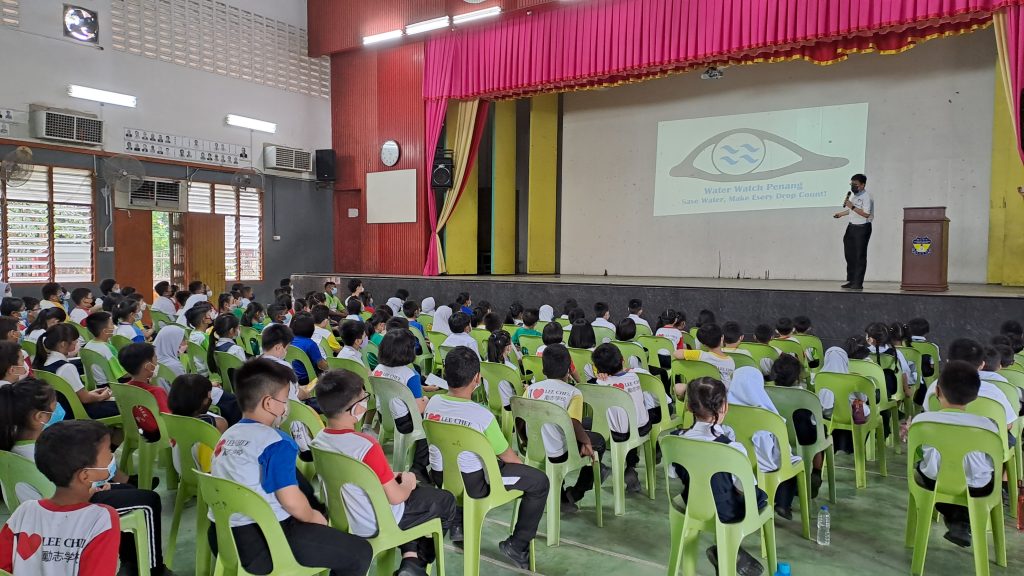 17-November-2022: Water Watch Penang (WWP) has conducted a river water education programme in two schools: SJKC Lee Chee (15th November 2022), and SK Balik Pulau (16th November 2022) under the Negalitres for Schools Programme. Both schools are also the Penang Green School Award recipients.
A total of 144 students and 16 teachers from SJKC Lee Chee, together with 50 students and 1 teacher from SK Balik Pulau participated in this education session conducted jointly by Dr. Hong Chern Wern, which is mainly conducted the education programme in Bahasa Melayu while Ms. Ong Ke Shin and Mr. Ooi Che Khai conducted the education programme in Mandarin for SJKC Lee Chee.
The curriculum for the education programme involved global, national and local water issues/crises whereby countries that have experienced severe water pollution and water-scarce countries coupled with climate change, were highlighted. They were also exposed to the main rivers in Penang and their river classification and contamination level. Additionally, the students learned about the physical, chemical, and biological analyses of a river that WWP conducted to determine the level of contamination. Numerous variables, such as odour, temperature, turbidity, and others, were tested. The aquatic macroinvertebrates were captured and identified using the catch-and-release technique.
In the final section calculations of each household member's daily water consumption based on their home water bill were also taught in both schools. For the students to learn more about water conservation and the PBAPP's current planning on water demand management, a PBAPP water-saving video was also shown to the students.
This programme is brought to you by CLEAN International dan Intel Corporation, coordinated by Water Watch Penang in partnership and supported by PBAPP, Penang Green Council, and Green Educator's Workgroup.
For more information, please contact Dr. Hong via email at hong.wwp@gmail.com.
#negalitresforschool
#waterwatchpenang
#riverwatereducationprogramme