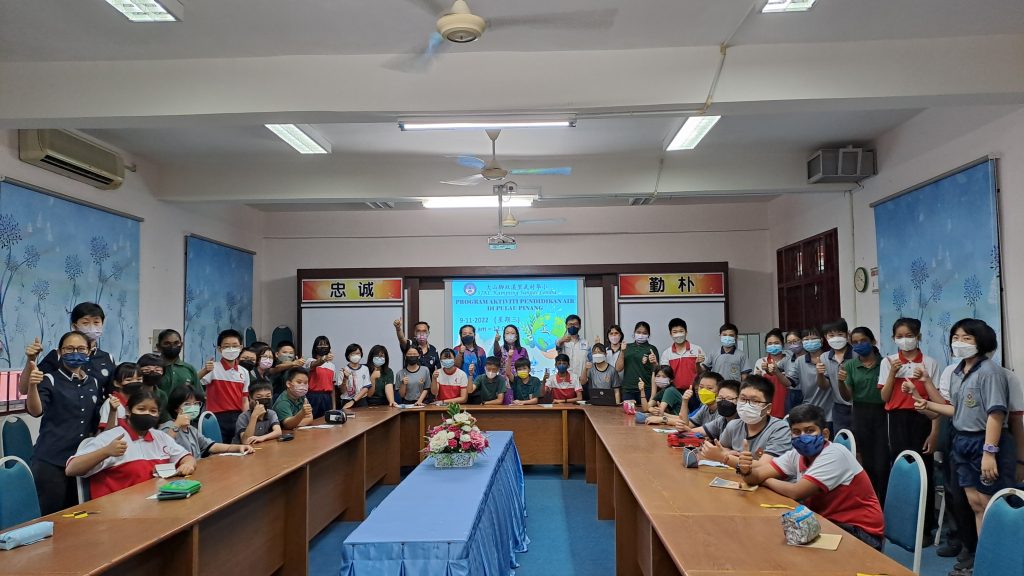 On November 9, 2022, Water Watch Penang (WWP) hosted a session of river and water awareness educational programme assisted by Ms Ong Ke Shin and Mr Ooi Che Khai at SJKC Kampung Sungai Lembu. The educational programmes were attended by a total of 39 students and participated by the headmistress and her senior assistants.
Conducted in Chinese Language, Dr. Hong Chern Wern, the Executive Manager of Water Watch Penang, gave a brief introduction of the educational programme. In order to help the students understand the local, national, and international river water challenges, Mr. Ooi Che Khai then discuss the related topic and issues with the students to help them appreciate Penang's affordable water bill prices and adequate supply of clean water.
Ms. Ong Ke Shin, a facilitator from WWP then educated the students on the physical, chemical, and biological evaluations and assessments of a river. To help the students learn more about determining water quality, a variety of water quality parameters are introduced to them, including odour, temperature, turbidity, pH, and the levels of phosphate, nitrite, and ammonia in the river. The students have also been shown images of a variety of microinvertebrates, such as shrimp, mayfly nymphs, stonefly nymphs, and leeches, which can be found in rivers of different qualities.
In the final section, Mr Ooi Che Khai emphasised various water-saving methods that can be implemented by the students in their houses. For the students to learn more about water conservation and the current PBAPP water-conservation planning, a PBAPP video was also played. Before ending the talk, Che Khai also taught the students to calculate their daily water usage. People who received 250 litres or more of water were thought to be wasteful water users and should think about implementing some water-saving techniques in their homes.
This programme is brought to you by CLEAN International dan Intel Corporation, coordinated by Water Watch Penang in partnership and supported by PBAPP, Penang Green Council, and Green Educator's Workgroup.