Penang: Plastic bottles in toilets, Thimbles in water hoses, water-saving, and short haircuts can also save water!
Domestic water consumption per capita (per person) in Penang reached a record of 301 litresliters per day, which is much higher than the country's average per capita water consumption of 230 liters.
In a joint interview with China Press, the President of the Water Watch Penang, Prof. Dr. Chan Ngai Weng, called on the public to save water.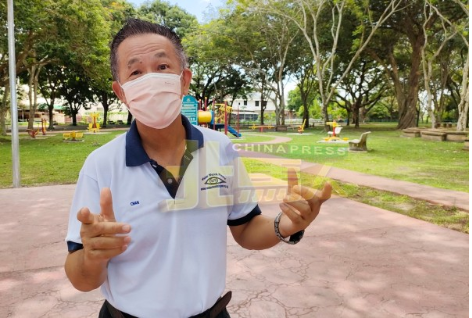 He also shared various ways to save water, including using water-saving devices, making changes in living habits, and reducing water consumption. For example, people can install a water-saving kit (thimble) on a pipe to reduce water production from a pair by 30%.
"This water-saving kit is available for free from PBAPP."He also stated that the old flush toilet can flush 9 liters of water at a time, while the new flush toilet can flush 7 liters instead of 9 liters.
"It is a solution that can be done by using 7 liters of water and it is more economical.
"He also said that if financial resources are a barrier to the replacement of new toilets, a 2-liter water bottle can be placed in the toilet tank to reach the capacity of the tank.
"Then, the water tank will only provide water of 7 liters at a time. If the solution requires 9 liters of water, remove the bottle and fill all the water tanks up to 9 liters until full and then flush.
"In terms of living habits, when people wash their hair and brush their teeth, they should close the shower or water tap used to avoid wastage of water. He also said that long hair definitely needs more water to wash the hair than short hair.
Therefore, choosing a short haircut is able to save more water. Similarly, with exercise, we just need to change a shirt. Washing clothes is one of the daily domestic tasks that consumers consume lots of water. Therefore, it is best to collect clothes in a certain quantity first before washing clothes in large quantities at one time.
Low water bills cause people to wastewaterlower-income.
Chan Ngai Weng said the water bill in Penang is too cheap, causing people to use too much water. He noted that water tariffs need to be raised, but on the premise that it does not add to the burden of lower income families. He added that the first 20,000 liters of domestic water should be maintained at 22 sen for every 1,000 liters and should not be increased.
"The RM2.31 sen is actually the cost of water treatment by the water supply company, and the company did not spend any money." He said 20,000 liters, of water, is enough for a family of 4 to 6 people because for normal usage, the household water consumption of 2 people is about 11,000 liters every 2 months.
Apart from that, he said, the government should also give a mandate so that the new houses planned should be installed with a rainwater harvesting system.
"Selangor has a previous housing plan with a rainwater harvesting system, but the design is not attractive. Because of that, not many people buy it.
"He believes that the rainwater harvesting system for the new house plan can be designed to be even more attractive to attract people to buy it. The expansion of the Air Itam Dam is too dangerous.
Chan Ngai Weng said it was impossible to expand the Air Itam Dam to get more water resources. He pointed out that the dam was located on top of a mountain at a height of 700 meters, and that there was a town under the mountain. If an accident occurs during the enlargement process, it will result in disaster.
He also mentioned that the Air Itam Dam is to collect water from the Penang Hill catchment area. If the size is increase but the catchment of the Penang Hill is the same, it is useless.
"Similarly with the Telok Bahang Dam, there is a town below and it is not suitable for expansion.
"He stressed that PBAPP has plans to use the Mengkuang Dam as one of its daily water sources. Mengkuang Dam used to be a dam that is to be used in terms of increased when Penang is facing a water shortage.
He also said the PBAPP also planned to expand the Sungai Dua Water Treatment Plant and build the Sungai Perai Raw Water Treatment Plant."
The government should also seriously discuss the issue of water transfer with the federal government and Perak. At the same time, it needs to maintain a win-win relationship with Kedah on the Sungai Muda water issue instead of fighting."
Desalination of seawater to obtain water
Dr. Chan Ngai Weng believes desalination of seawater is one way for Penang to get water. He stressed that Penang is surrounded by seawater and there is no problem of emergencies or emergencies facegreatthe emergenciesf of ace greas seawater shortage.
Therefore, desalination also allows Penang not to depend on water resources from other states." When we succeed in decontaminating seawater, we will not be 'bullied' by other states and can be 'independent' of that water source."
He also said that seawater desalination technology can not only desalinate seawater but can also dilute saltwater, swamp water, estuarine water, and even domestic and industrial wastewater.
"However, domestic and industrial wastewater cannot be used for drinking water, but only for irrigation or industrial purposes."
But he acknowledged the cost of a desalination system is high and if it is used, water charges must be raised.
For more info about water-saving tips, you can check our Facebook for more details.
The original article was from China Press and translated into English and Bahasa.