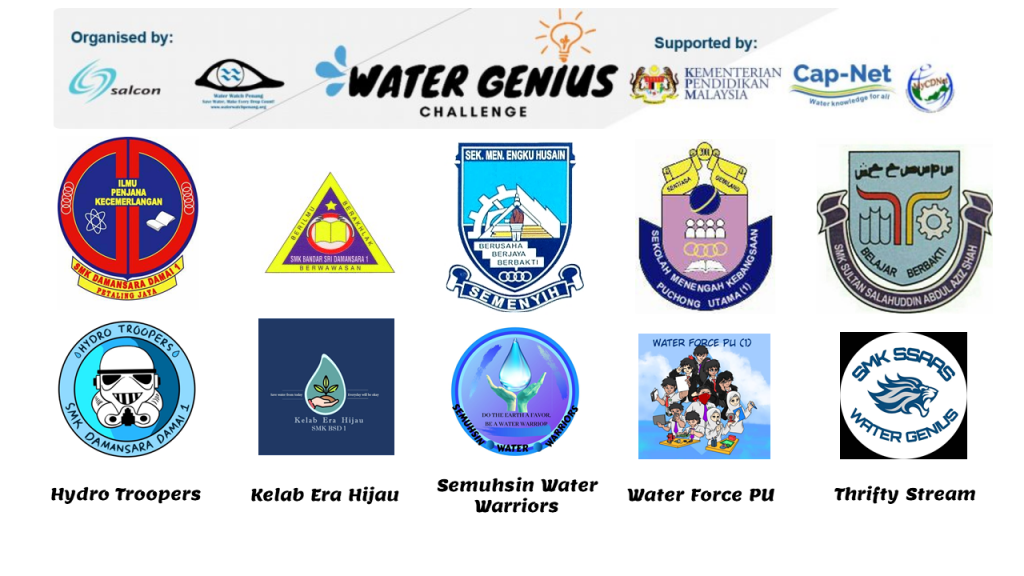 After nearly 2 years of planning, implementation and evaluation of actions taken by students and teachers to promote water conservation, finally the Water Genius Challenge Finale took place on the 4th December 2021 via online zoom. Due to the MCO movement, the WGC has been prolonged with various challenges taking place from 2020 up to December 2021 involving schools from Klang Valley and Kuala Lumpur.
Organised by Water Watch Penang and Salcon Berhad, this initiative was supported by the State Education Department of Selangor, International Network for Capacity Development in Sustainable Water Management (Cap-Net) and Malaysia Capacity Development Network MyCDNet.
In this finale, students from participating schools were required to present about their action plans taken as well as the outcome of the whole initiatives in the WGC. The presentation was judged by Senior Director of Industry Development And Audit Division · National Water Services Commission (SPAN), Ms. Chern Meng Gaik, General Manager of Corporate Affairs, Salcon Berhad and Dr. Hong Chern Wern, Executive Manager of Water Watch Penang.
This event has seen a registered participation of more than 20 teachers with involvement of at least 100 students. The presentation of the students have also provided positive outcomes especially in water saving initiatives. Even though everyone's daily life is being challenged due to the Covid-19 pandemic situation, students, guided by their passionate teachers and supportive parents and non-teaching staff have taken creative ways in home and schools that have seen at least 10% reduction in daily water consumption, while at the same time, actions were taken to repair broken pipes in schools. In addition, the constant social media postings as well as virtual campaigns were carried out by the students while the teachers have successfully integrated water related topics extensively into their online and offline lessons in nearly all of the subjects in school curriculum.
The Winners of the Water Genius Challenge:
Champion: SMK Damansara Damai 1 (Hydro Troopers)
1st Runner-Up: SMK Bandar Sri Damansara 1 (Kelab Era Hijau)
2nd Runner-Up: SM Engku Husain (Semuhsin Water Warriors)
Consolation Prize: SMK Puchong Utama 1 (Water Force PU (1))
For more information, you can email Water Watch Penang or Mr. Steven Tan from Salcon Berhad.