An online forum on 'Addressing Environmental Issues affecting Water Security in Malaysia was organised online on the 25th April 2021.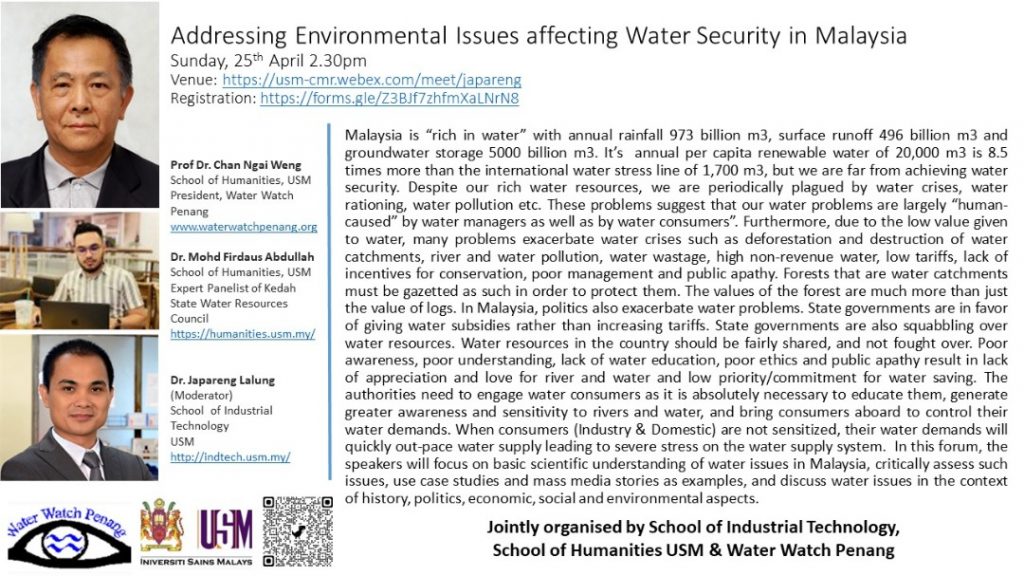 In the wake of current issues regarding the 'tussles' between Kedah and Penang on the water security, this talk was jointly organised by School of Industrial Technology and School of Humanities from Universiti Sains Malaysia, respectively and Water Watch Penang, with the objective to provide basic understanding of water issues in Malaysia with analysis and assessment via case studies, mass medias, and discussions of water issues in the context of history, politics, socio-economics and environmental aspects.
Moderated by Dr. Japareng Lalung from Environmental Technology Division, School of Industrial Technology, Prof Dr. Chan Ngai Weng (President of Water Watch Penang) presented and discussed on the Environmental Issues and Challenges affecting Water Security in Malaysia by Prof Dr. Chan Ngai Weng, the President of Water Watch Penang while Dr. Mohd. Firdaus bin Abdullah from School of Humanities and Expert Panellist of Kedah State Water Resources Council provided critical insights on presentation titled 'Water Security in Northern Peninsular Malaysia: The History, Politics and Social Aspects'.
The recorded version of the forum can be accessed from the following link https://www.facebook.com/odyusoff/videos/10225756744366709/